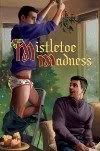 Collingsworth
Michael is the poor cousin, living on charity and a scholarship to an exclusive boys' school,
Collingsworth
, after his parents' deaths. With the help of a sympathetic teacher, Michael is outfitted for the formal masked ball, and when the girls' school pulls out at the last minute, the Headmaster of
Collingsworth
holds the event with only the boys of
Collingsworth
attending--and Michael may have the chance to recognize his dream and dance with his longtime crush, David. But will it mean nothing in the end and leave Michael despondent and alone for the holidays?